Monday, 30 March 2009 00:50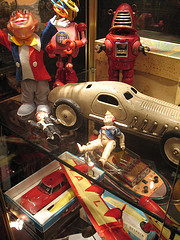 I have written professionally in a range of contexts. For instance as editor and producer of the various publications, digital and tangible, of organisations for which I have worked.

You can read some articles I wrote for Creative Boom, part of the Guardian's Culture Professionals Network:
See the writing section of the site to read and download other articles.
I test wisdom at my Proverb Testing Blog
See more Writing
Wednesday, 17 June 2009 21:46
In order to paint it I took a trumpet and held it in one hand, rather like Hamlet with Yorick's skull and I also listened to a range of trumpet jazz, starting with Charlie Parker and running the whole gamut - Chet Baker, Miles Davis, and so forth.
I am quite pleased with the result, and intend to next paint a piano.  Though how I will hold that in one hand, I am not so sure.