The Robin that perches on the bench where I meditate at lunchtimes. In my stillness, it comes and watches me, and when I open my eyes it is there by my side. Head tilted, chest puffed. I have taken to leaving, in the colder weather, little morsels for it to eat.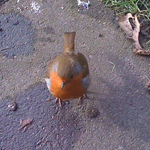 One time, I stood up from the bench and looked back to see my shadow cast down on the ground by the persevering winter sun, and the Robin then flitted down from the bench into the shadow, to rest on the place where my heart would be. Having just come out of the serenity of meditation, this moment struck me as poignant, and has remained with me.

There are also a couple of squirrels. The squirrels, in my unthreatening stillness have been known to play with my shoes in their curiousity.
The sheer silent magic of night time falling snow on the quelled streets of Soho - normally bustling with noise and traffic, instead frozen into stillness as if enchanted. The thick white crunch of fluff beneath one's feet. The search lights of a theatre revealing in their sweeping beams the flurrying butterfly swarm of fat flakes.
David Bowie
When I was six and watching Top of the Pops, I saw him dressed as Pierrot walking in front of a bulldozer in the Ashes to Ashes video, and I was utterly mesmerised. It was like seeing another planet. Inspiring, otherworldly, weird, brilliance.
Poetry. There is lots of terrible poetry in the world, a little more thanks to my occasional efforts, but when poetry is written well, it is sublime. From the anonymous voices of the past who have left their experiences writ in dead languages to the modern age, poetry is the complexity of human experience conveyed in language. Or, to be reductive, the most apt words in the most pleasing form to convey the thoughts and feelings of the poet. Some of my favourite poets, and poems, are: ee cummings; Pablo Neruda; TS Eliot; WH Auden; Apollinaire